Trickfish was formed in 2014 by bassist/designer/businessman Richard Ruse, a veteran player who's logged thousands of studio and stage hours as a professional bassist. He's also spent over 25 years' developing market shifting product for SWR Engineering, KRK Systems and JBL Professional while providing leadership at a strategic level for these companies and others. His global experience, dedicated work ethic and commitment to the arts has defined his personal mission of promoting music through technological excellence and treating customers with a deep respect for their support of that product.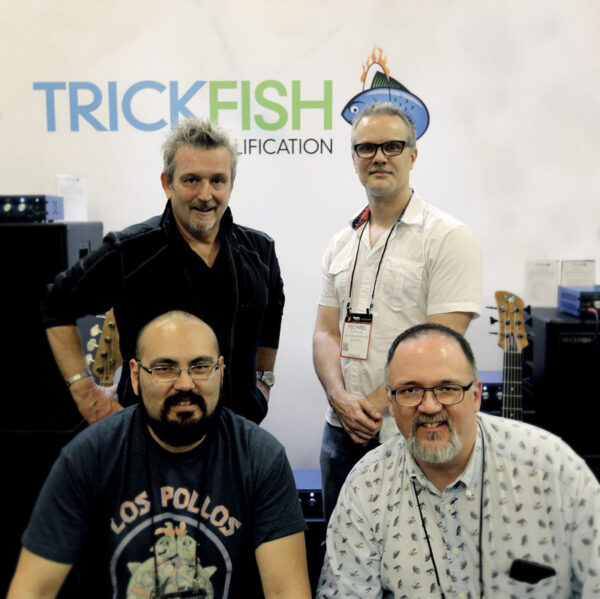 "All of my years in music and audio have been dedicated (in part) to the pursuit of truly musical tone; natural, organic… whatever you want to call it, but believable tone that inspires a player or sound engineer to reach inside and reveal their artistic dream. Here's the thing – when the music sounds good people listen and when people listen, music can change their lives. The biggest lesson I've learned in product development is that there's a delicate marriage between science and art if you want to take something from simply being "good enough" to that goose bump giving, sublime tone that inspires a musician to step it up and really touch people with their playing."
"When designing and voicing a Pro Audio speaker, the goal is to reveal what the musicians and recording engineers had intended; to make a cymbal sound like a cymbal, or a trumpet like a trumpet. In instrument amplifier design the goal is to translate the experience of playing music through technology that honestly reveals what the musician is doing in that moment. The equipment has to convey the subtlety and nuance, the dynamics and the emotion without adding unnecessary artifacts that trick the player into second guessing their intentions. While developing several of the products on which I've worked there were as many hours put in to critical listening as actual engineering. Communicating what is or isn't happening with the product can be challenging when the engineers haven't spent years creating and recording music… the frame of reference just isn't there. As a designer you have to translate art into science. With Trickfish I've surrounded myself with other people who not only understand the science of acoustics, structural design, electrical and digital technology, but are also experienced listeners/players who speak a common language and share common goals. We're like a busy kitchen of passionate, serious chefs who get off on serving extraordinary, truly unforgettable food. I've surrounded myself with incredibly talented people whose creativity and drive is manifest in what I consider to be some of the best amplifiers ever built."
Richard's friendship and business relationship with world renowned bassist/composer/pianist and designer Mike Pope was a strategic factor in starting this business. "Mike's rack mount pre-amps have been heralded by bassists worldwide for their purity, simplicity and sheer musicality – his on-board preamps have powered Fodera basses for years. He and his business partner, David Yates (holder of 200+ U.S Patents AND a fine bassist in his own right), joined the team and worked together on the electrical engineering, system design and user interface of the TF Gen 1 heads.
The acoustical team was RR and Systems Engineer Anthony Fregoso, a 15 year veteran of JBL Professional. There is a wealth of skill, experience and science focused at designing and voicing Trickfish cabinets. Our primary design goal was that they deliver the fundamental while speaking clearly and articulately. (Boom – Mic Drop)…… the rest, is history.